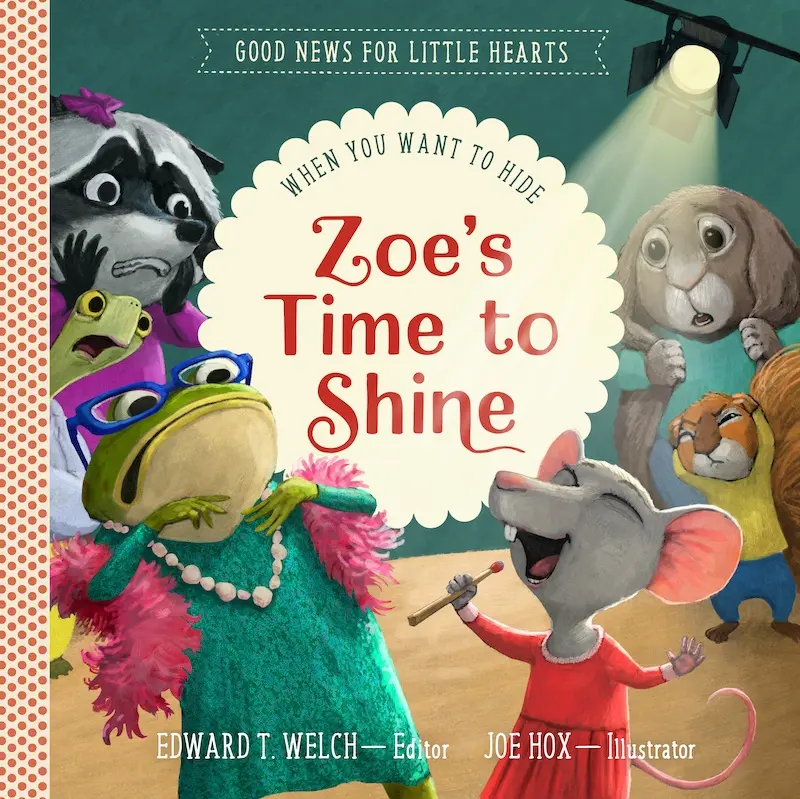 Zoe's Time to Shine: When You Want to Hide
Zoe Mouse loves to sing. She sings everywhere all the time. There is just one problem—she can't carry a tune. One day she tries out for the school musical and tells all her friends she will definitely get the lead role. But instead of getting a part, her drama teacher asks her to help with the lighting. Zoe wants to hide! Papa finds her in the closet hiding under her blanket and helps her remember that Jesus is with her and will be her protector and helper when she goes back to school. Zoe learns that when Jesus is near, you don't have to hide. You can face your friends and shine a light on them.  
Parents and caregivers are guided by editor Edward T. Welch in how to talk with their children about hiding and feeling ashamed and how to connect the Bible to their children's struggles. A special section at the end of the book includes a parent help page and the Bible verses referenced in the book are also available as a tear-out page. Children will learn to turn to Jesus and depend on him to cover them with his love and give them the strength to face others. 
This colorful, beautifully illustrated children's book invites children ages four through seven into Zoe Mouse's world to learn alongside her how to overcome shame and embarrassment. 
Zoe's Time to Shine: When You Want to Hide is part of the Good News for Little Hearts series for ages three to seven, bringing gospel wisdom and biblical counsel to families. Based on CCEF's model of hope and help, each story focuses on an animal family's real-life issues, encouraging young readers toward a growing relationship with Jesus in the midst of challenging circumstances. Each individual story guides parents toward meaningful conversations with their kids, based on what Scripture has to say about living by faith in everyday life.   
With vivid illustrations by Joe Hox and a story children can relate to, even the youngest child will be engaged. Zoe's Time to Shine along with all of the Good News for Little Hearts books, will become a lifelong gift for parents and children, as well as teachers, biblical counselors, and anyone hoping to provide concrete, grace-based help for young children.
About the Illustrator
Joe Hox was raised on a farm in southern Iowa where he doodled whenever he wasn't spading thistles or feeding pigs. Everyone knew by his crooked hay rows that he would choose art over farming. Joe earned his BA in Art and Education from Dordt College, and his MA from the University of Nebraska. Today he lives with his wife and four children in Pella, Iowa, where he illustrates and teaches art.
Book Details
32 pages
Publisher: New Growth Press
Publication Year: 2022